WHAT IS A SEEDBOX?
What is A Seedbox? A Seedbox is basically a server which is sharing between multiple users or a single user depends on the package you choose. With these server's you can download torrents. The speed of the servers depends on the plan you choose. From 100mbps to 500mbps to 1gbps to dedicated box.
Seedbox is like a personal 24/7 running machine with an attached private hard disk for each user. You can download, upload, store files, have access to all your data with few clicks. And it is hidden away from the prying eyes of big organization and government.
Our Seedbox comes with ruTorrent installed for your usage.
What makes our Seedbox one of the Best Seedbox?
Our Seedbox comes with the Customized Panel along with Instant Delivery & High-Speed Internet and much more.
We have chosen a minimalistic design for our panel, to give our clients the best experience they cannot get anywhere else.
Want more details regarding Seedbox or What is a Seedbox? Click Here.
How to control ruTorrent via Seedbox Panel?
Here is the interface of our ruTorrent in Seedbox Panel, Which is completely integrated just like other softwares.
You can access it by click ruTorrent on the top bar. Just like the screenshot below.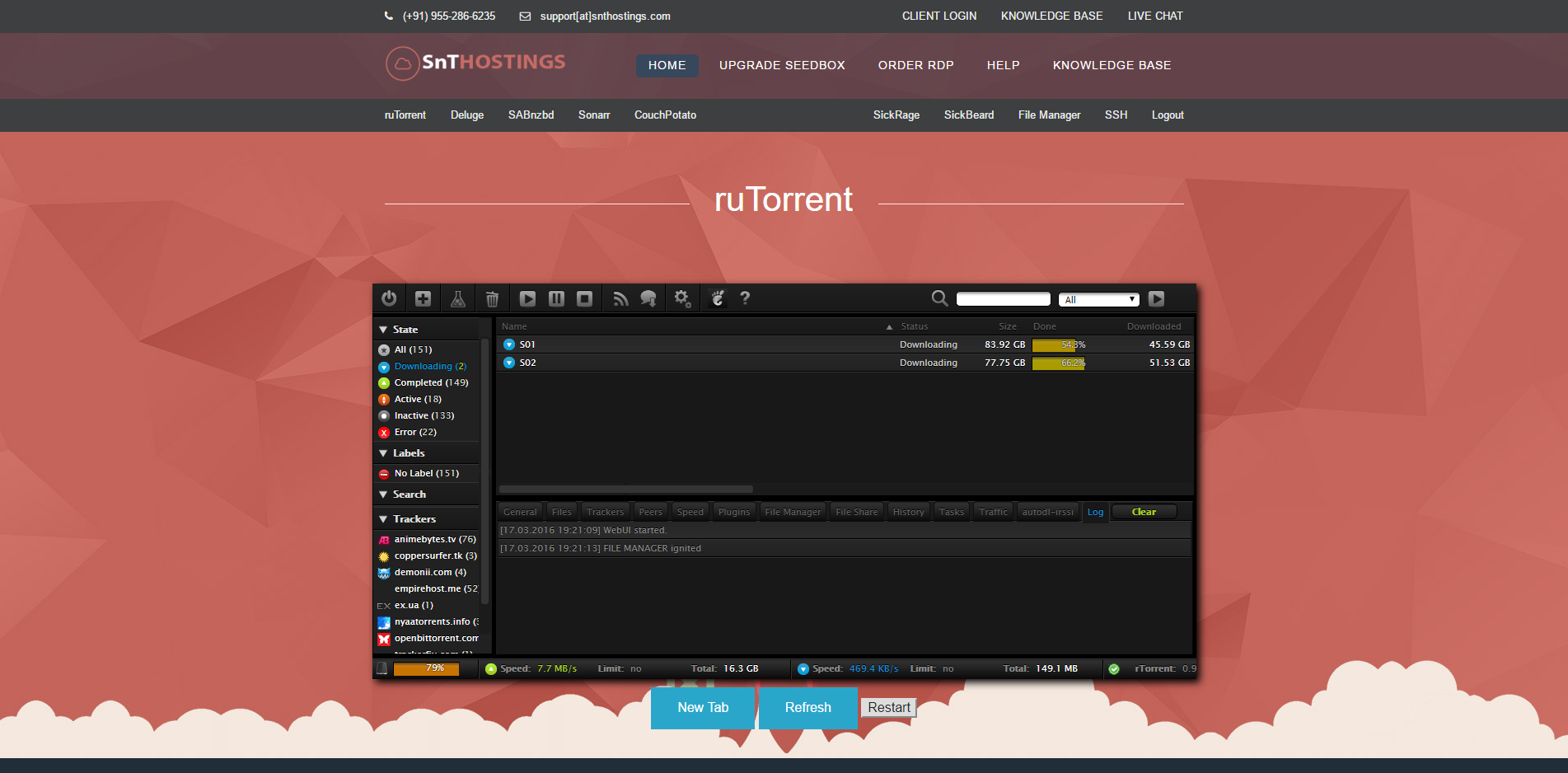 You can fully use ruTorrent from this interface, It shows the HDD Space, Up & Down Speed, Number of active torrents etc.
New Tab Button – It will open up in a New Tab, so you can use it in maximized mode.
Refresh Button – It will refresh the ruTorrent and update the page in case you have some problem.
Restart Button – It will Restart ruTorrent fully using SSH connection at the backend of the panel, so you won't have to go through hoops.
Rest all usage of ruTorrent is quite simple and straightforward, just like uTorrent on PC 🙂
Click Here For Help, Contact Us.
Other than the above extra steps we have taken for panel and integration. We have also installed all the possible plugins we think our users may or may not need so you can Control ruTorrent via Seedbox Panel without any trouble. List of installed Plugins mentioned below.
List of Installed ruTorrent Plugins.
Installed Softwares:
ruTorrent 3.7
rTorrent 0.9.4 to 0.9.6
libTorrrent 0.13.4 to 0.13.6
Deluge 1.3.6
mktorrent
JailKit
Fail2ban
Apache with SSL
OpenVPN
PHP 5 and FastCGI to increase performance
Linux Quota
SSH Server
vsftpd
IRSSI
SABnzbd
Rapidleech
Subsonic
Sickrage
Plex Media Server (Selected Plans)
Speedtest – speedTEST
Main plugins:
autotoolscpuload
diskspace
erasedata
extratio
extsearch
feeds
filedrop
filemanager
geoip
history
logoff
mediainfo
mediastream
rss
scheduler
screenshots
theme
trafic
unpack
and many more.
Additional plugins:
Autodl-IRSSI (with an updated list of trackers)
Filemanager (modified to handle rar, zip, unzip, tar and bzip)
File upload
Fileshare
MediaStream (to watch your videos right from your seedbox)
Logoff
Themes:
Agent 46
Oblivion
Oblivion Blue
This is how you can Control ruTorrent via Seedbox Panel. This guide also provides additional content about our Service and ruTorrent as well.